Fsociety Hacking Tools Pack
A Penetration Testing Framework, you will have every script that a hacker needs
Fsociety Contains All Tools Used in Mr. Robot Series
Menu
Information Gathering
Password Attacks
Wireless Testing
Exploitation Tools
Sniffing & Spoofing
Web Hacking
Private Web Hacking
Post Exploitation
Contributors
Install & Update
Information Gathering:
Nmap
Setoolkit
Host To IP
WPScan
CMS Scanner
XSStrike
Dork – Google Dorks Passive Vulnerability Auditor
Scan A server's Users
Crips
Password Attacks:
Wireless Testing:
Reaver
Pixiewps
Bluetooth Honeypot
Exploitation Tools:
ATSCAN
sqlmap
Shellnoob
Commix
FTP Auto Bypass
JBoss Autopwn
Sniffing & Spoofing:
Setoolkit
SSLtrip
pyPISHER
SMTP Mailer
Web Hacking:
Drupal Hacking
Inurlbr
WordPress & Joomla Scanner
Gravity Form Scanner
File Upload Checker
WordPress Exploit Scanner
WordPress Plugins Scanner
Shell and Directory Finder
Joomla! 1.5 – 3.4.5 remote code execution
Vbulletin 5.X remote code execution
BruteX – Automatically brute force all services running on a target
Arachni – Web Application Security Scanner Framework
Private Web Hacking:
Get all websites
Get joomla websites
Get wordpress websites
Control Panel Finder
Zip Files Finder
Upload File Finder
Get server users
SQli Scanner
Ports Scan (range of ports)
Ports Scan (common ports)
Get server Info
Bypass Cloudflare
Post Exploitation:
Shell Checker
POET
Weeman
Installation
Installation Linux
bash 

<(

wget -qO- https://git.io/vAtmB

)
Follow This Video HackerSploit
Installation
Download Termux
bash 

<(

wget -qO- https://git.io/vAtmB

)
Follow This Video Arif – Tech
Download Linux Bash Like Cygwin
Download Python
Use Google Cloud Console Cloud Shell
Or Use Free Ubuntu VPS c9.io
Dependecies
docker-compose build
docker-compose up -d
docker-compose 

exec

 fsociety fsociety
docker-compose down 

# destroys instance
Screenshots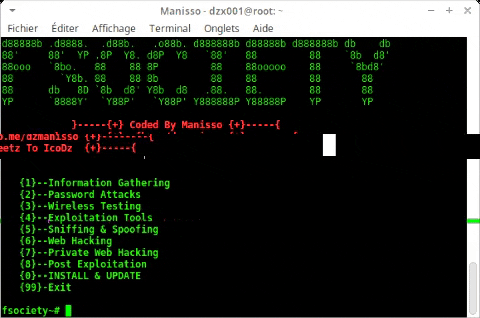 Contributors
License
Credits: Manisso
Support Us!
Please consider downloading Brave Browser by downloading Brave Browser through our website you won't only be downloading a great privacy browser you will also be supporting (HackingVision.com). We are not using Google Ads as we respect our users privacy. We encourage you to use an Ad-blocker or a browser that has a built in ad-blocker and other privacy features such as VPN.
Latest posts by JavaRockstar
(see all)